In the previous article, we brought you a selection of the most interesting events that ZETOR tractors have participated in during the last few weeks. In this sequel, we will take a closer look at other events where the legendary red tractors were on display. Also at these exhibitions, the presentation of ZETOR would not be possible without the participation of our dealers, distributors, and partners, whom we thank for their hard work.
Agra Leipzig Fair
50,000 visitors, 681 exhibitors from 16 countries, 850 animals, and 5 ZETOR tractors. This is how the Agra trade fair, which took place at the end of April in Leipzig, could be summarized in numbers. One of the largest and most important agricultural exhibitions in Central and East Germany took place after a long break caused by a coronavirus pandemic. After two years of online contact, the meeting with customers was pleasant and especially beneficial for everyone.
The presentation at the exhibition was provided by the subsidiary ZETOR Deutschland GmbH. "Visitors were able to see a complete portfolio of utility tractors with output from 80 to 170 hp. More specifically, those were the models MAJOR CL, PROXIMA CL 100 and HS 120, FORTERRA HSX 140, and our most powerful tractor - CRYSTAL HD. Responses to the exhibited models and the overall presentation were favorable, which is also due to the good name that ZETOR still holds in Germany, "said Irena Uschkereit, representative of ZETOR Deutschland.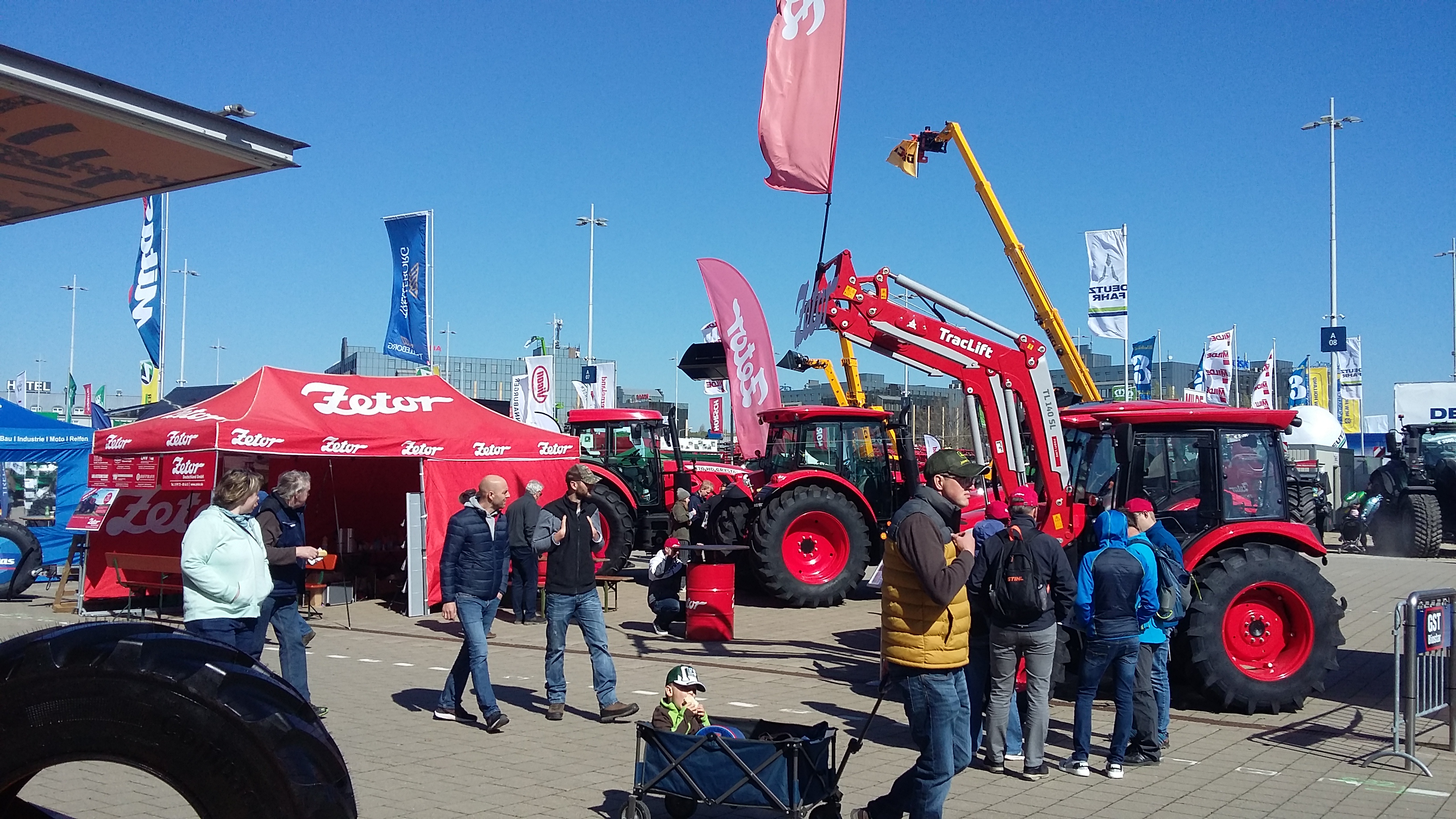 The red tractors will come again to our western neighbors on the second weekend in July to northern Germany near the village of Tarmstedt. Every year, more than 100,000 fans of agricultural machinery come to the local open-air exhibition. At the beginning of September, ZETOR will end the summer season in Germany at the Rottalschau agricultural fair in Bavaria.
In the Scandinavian forests
ZETOR tractors headed from Germany to northern Europe. The Skog & Traktor trade fair took place in Emmaboda, Sweden, from 6th to 7th May. The fair has been held at the local airport since 2012 and it's the largest exhibition in south-eastern Sweden focusing on forestry and agriculture. Thanks to the large asphalt and grassy areas with the adjacent forest, the exhibition offers an ideal opportunity to demonstrate the technology at work. In addition to modern machines, the fair also hosted a parade of veterans, supplemented by a competition for the most beautiful of them.
ZETOR was represented at the exhibition by the company HCP, which is a distributor for the entire Scandinavian region. Throughout the event, its representatives were actively involved with incoming visitors. Around 5,000 of them finally arrived. From the current portfolio of the ZETOR brand, they were able to see the PROXIMA CL 100 and PROXIMA HS 100 models. Several professional consultations resulted in a serious interest in buying a tractor, so from a business point of view, ZETOR's presentation was very successful.