Vienna, the capital of Austria, is a well-known city. However, there is another town of Vienna ('Vídeň' in Czech), which lies 135 km far from its Austrian namesake. It is located in Moravia, 5 km north from Velké Meziříčí. The town has population of 460 inhabitants and it lies along two small creeks that flow into the Oslava River. The countryside in that area is rugged with a few trees and bushes and needs to farmed with professional machinery. For over two years, the job has been performed by ZETOR MAJOR HS 80.
Mr Martin Vávra, the Mayor of the town, told us the story about the tractor's purchase. There was a tender and the result of a long discussion was that ZETOR MAJOR 80 is the best choice. 'One of the reasons why we have decided for this model was that it offers creepers (minimum speed no higher than 0.5 kph), which was a key factor for the jobs to be done here. Bigger weight of the tractor was also important as it was necessary for the tractor to work easily with front loader,' says Mr Vávra talking about the details of the tender. MAJOR HS was about 600 kg heavier that other tractors in the tender. In addition, it was equipped with pivoting mudguards which significantly decrease turning radius to 3.9 m, allowing the tractor to turn in small areas. The City Council was also attracted by the fact that it is a Czech product with global design: since 2018, the MAJOR range has been produced in the design ZETOR by Pininfarina, which was first introduced in 2015 and received positive feedback from both professionals and the public. The tractor was not the cheapest one but its characteristics were convincing.
For the tender, MAJOR HS 80 was offered by MOREAU AGRI VYSOČINA spol. s r. o. COMPANY, which started cooperation with ZETOR TRACTORS a.s. in 2014. Together, they were involved in a daring achievement: as part of VYSOČINA ZETOR SHOW, they have broken the record of the number of ZETOR tractors present in one place and in making the longest, unbroken chain of tractors. Altogether, the show was visited by 237 Zetors! MOREAU AGRI VYSOČINA was founded in 2001. Its core business is sales of farming and construction machinery, complete service and spare parts deliveries. In addition, the company is involved in mediating or purchasing used machinery, renting a wide range of machines (e.g. tractors, telescopic manipulators, feeding trailers etc.) and financial services in respect of machinery purchase.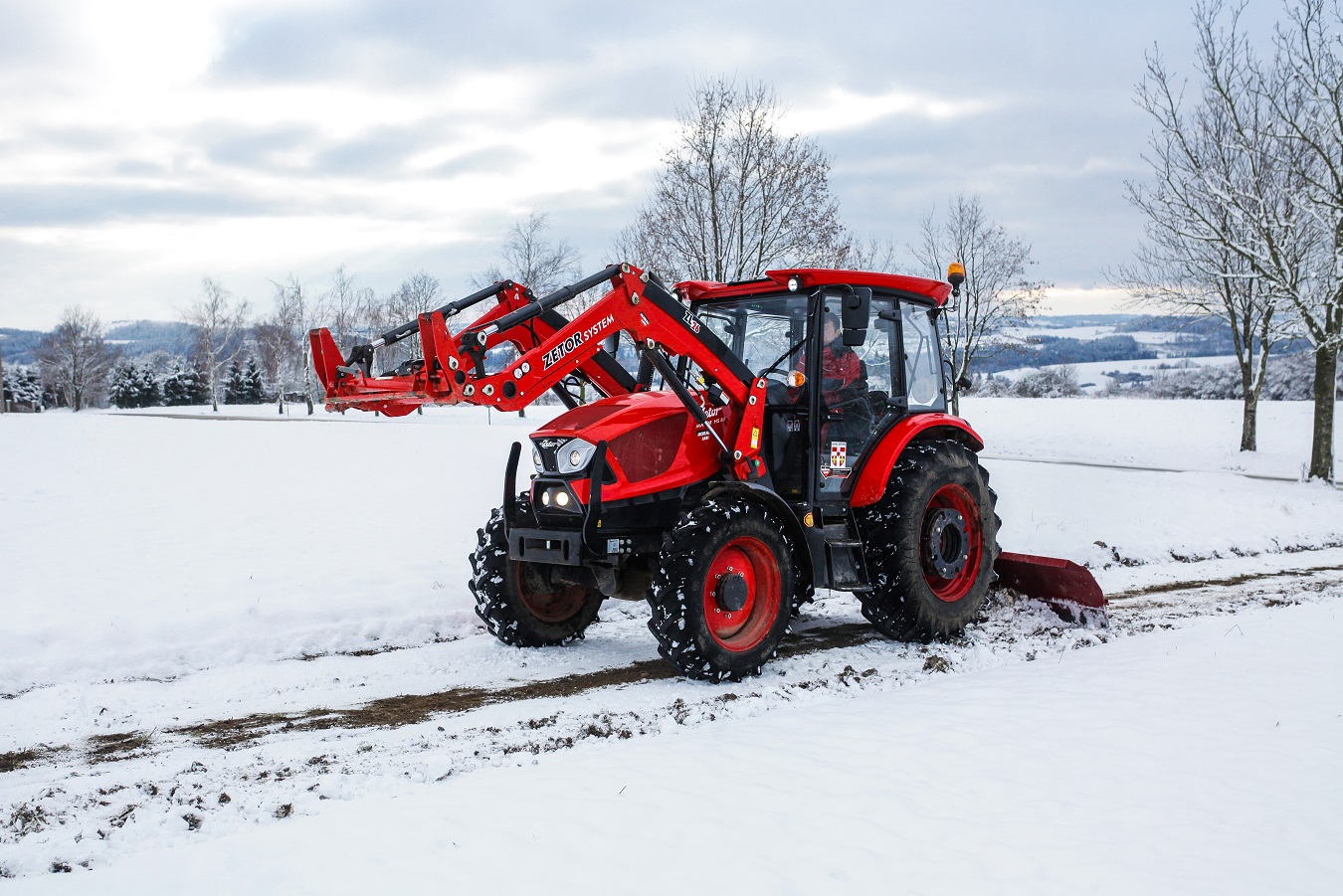 In the town of Vídeň, ZETOR MAJOR HS 80 is mainly occupied with forest jobs. The tractor was bought for forest fund subsidies. However, as forests in the entire republic have been damaged by bark beetles, the tractor started to be used for many different jobs, mostly in maintenance. Thus, the tractor still helps the citizens of the town to transport wood from the forest but it also blades snow in the winter, takes care of the town's vegetation and is available for container transport all year round. The town also plans to purchase a wood chipper, so MAJOR will also be involved in wood processing. It is a big advantage for the town to have its own tractor for winter maintenance. Before, roads in the town were taken care of by a local cooperative farm but their priority was to blade snow from roads around the town. Thus, the farm's machinery made it into the town only in the afternoon or not at all.
Tractors of the ZETOR MAJOR model range have reputation of life-long tractors. In 2016, the model range which included the basic model MAJOR CL was extended by MAJOR HS, a tractor with better comfort and equipment. MAJOR HS, model 2018, offers innovated gearbox with 24 forward and 12 reverse gears with maximum speed of 40 kph, two-stage multiplier (PowerShift) and electro-hydraulic reverser (PowerShuttle). Cabin is equipped with a more comfortable seat, passenger seat and storage compartments. Big lifting capacity allows connecting the tractor with a higher number of devices. MAJOR tractors use hydraulics with mechanical regulation. The internal hydraulic circuit controls three-point hitch lifting. It has big lifting capacity and smooth sensitivity regulation and drop speed including the function of hydraulic lock for tool transport. The external hydraulic circuit supplies pressure oil for connected devices. The tractor is equipped with one-section and two-section (and three-section in case of MAJOR HS) additional distributor with reverse section.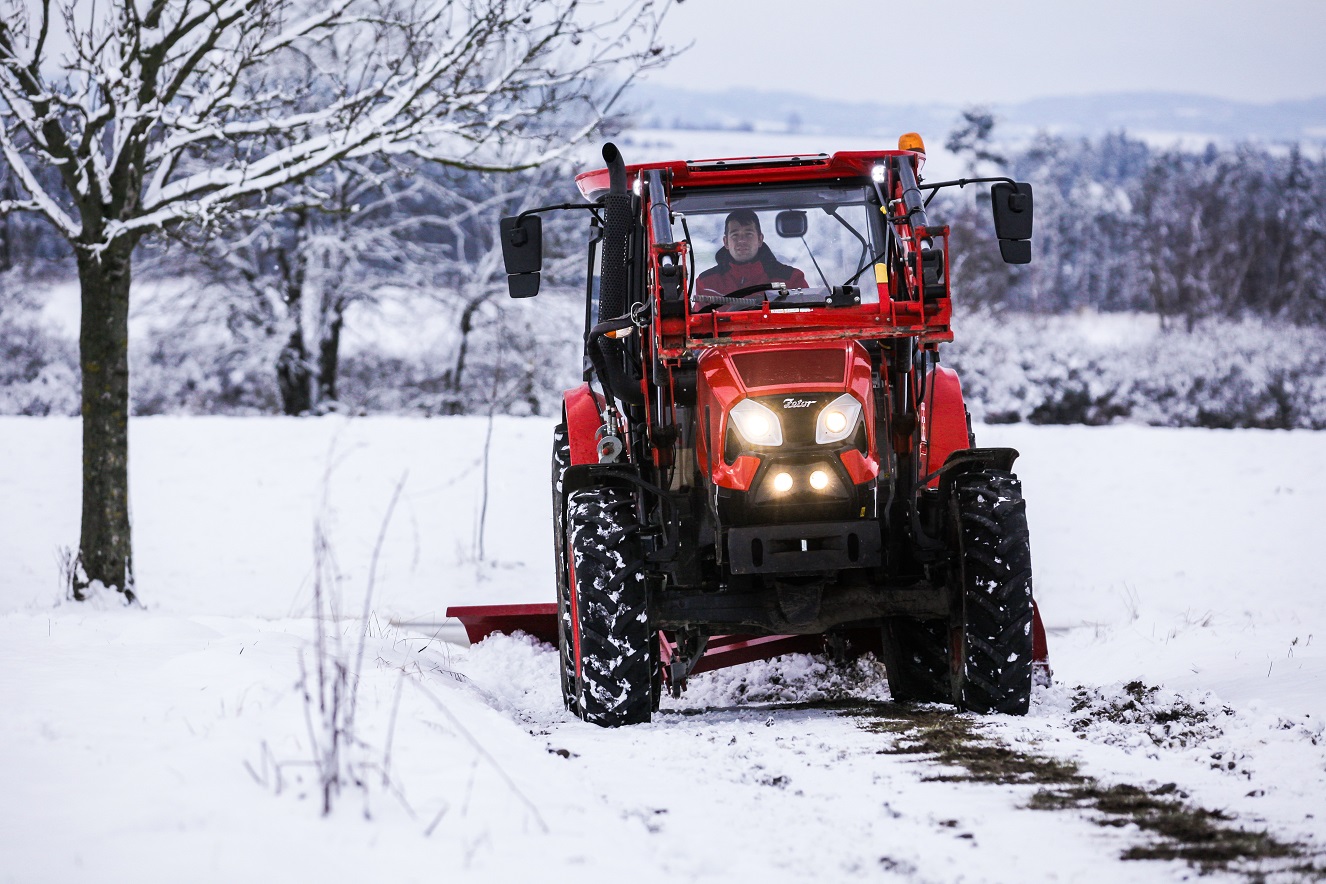 The characteristics of MAJOR HS are appreciated by operators mainly while working with front loader. Tractors of the MAJOR range can be equipped with the ZL range of loaders. They were designed to meet high standards of productivity and safety. Due to their unique design with a low-placed arm, they allow perfect view to the front and sides. The loader's shape with recesses ensure great torsional stiffness and rigidity. The compact position indicator does not stick out, which eliminates risk of damage. It can be easily mounted and adjusted to three different positions for different types of tools ensuring precise tilt angle of the tool relative to surface level. Mounting and dismounting loader arms is easy requiring no tools at all. Integrated foldable parking supports make mounting and dismounting much easier.
Let us go back to the MAJOR HS 80 that works in the town of Vídeň. What is the experience with its two-year operation? 'We do not regret buying this tractor,' says Mr Vávra assessing the machine. 'It is true though that it tested our patience at the beginning. After the tractor's run-in in September 2018, a few discrepancies occurred. Yet, the service team of MOREAU AGRI VYSOČINA has always been very helpful.' In the end, hours of operation proved the tractor good. In its operators' opinion, it is an easy-going helper.