Hospital is a place where professionals take care of our health and save people's lives. Jihlava Hospital is not an exception. Yet, it is not widely recognized that to accomplish the goal, the hospital requires suitable environment: the premises must be kept in perfect condition, mainly in the winter with falling snow.
Lives of people may depend on such a thing as snow sweeping because it allows ambulance cars to pass through. We are honoured that Jihlava Hospital has chosen ZETOR MAJOR HS 80: a reliable and powerful tractor with easy maintenance. 'We have purchased the tractor last October from MOREAU AGRI VYSOČINA Company,' says Mr Martin Kos, the tractor operator. 'We also work with the older ZETOR 5211 but that one is slowly getting out of service, so it was necessary to buy a new, modern and reliable tractor.' Mr Kos is satisfied with the tractor. He has already tested it in snow sweeping appreciating the comfortably warm cabin. The tractor was working with a rear plough; front loader was ready for situations with bigger amounts of snow. The premises of the hospital are quite large keeping the staff busy not only in the winter. 'We also use a flat-bed trailer to transport all kinds of stuff. Right now, I am taking paper to a local recycling centre,' says Mr Kos.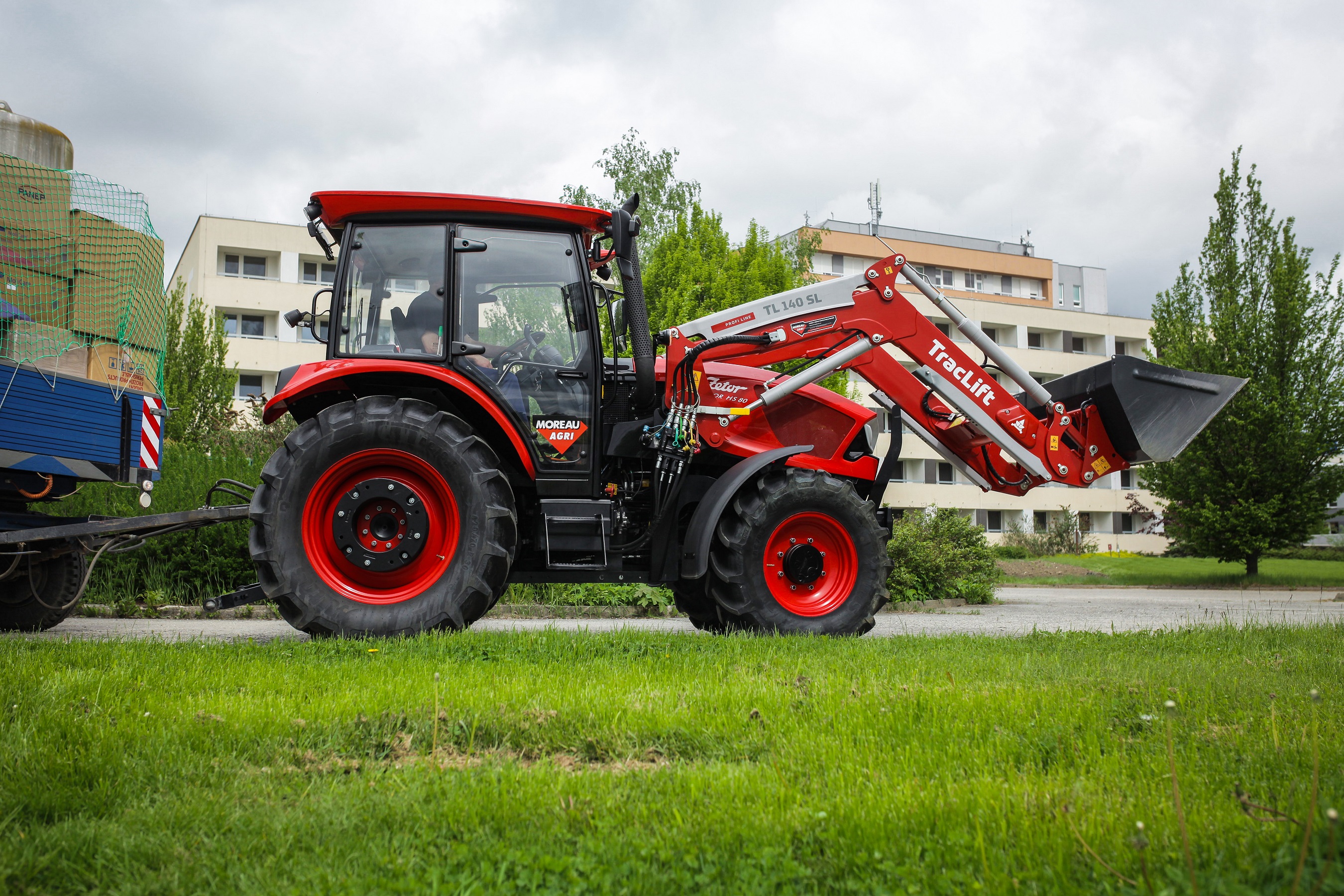 Jihlava Hospital is familiar with the troubles caused by coronavirus pandemic. Now, everyone is relieved and everything slowly returns to normal. Our wish to the hospital is to be always ready for any expected and unexpected situations. We believe that our tractor will be of great help in this respect.
MAJOR HS 80 a MAJOR CL 80: Performance and simplicity
MAJOR HS 80 is equipped with a four-gear fully synchronized gearbox offering three-stage reduction gearbox with two-stage torque multiplier (PowerShift) and hydraulic reverser (PowerShuttle). This ensures a good layout of gears, which allow operating the tractor in optimum revolutions during any kind of work with low fuel consumption. The tractor is equipped with up to three hydraulic sections in the rear; the hydraulics with mechanical regulation is reliable in any situation.
This year, the innovated MAJOR CL 80 has been presented. The most striking innovation is the advance to a higher emission standard. The emission system has been innovated with a diesel particulate filter (DPF) which together with exhaust gas recirculation (EGR) and diesel oxidation catalyst (DOC) complies with Stage V emission standard. As a result of implementing higher emission standard, a number of design innovations has been made to air brakes, air pipes, engine cooling and mechanical regulation of hydraulics. To offer better comfort, the cabin has been subject to considerable innovation. As an option, customers can choose more comfortable PLUS cabin. As opposed to a STANDARD cabin, it offers air-conditioning in standard, optional pneumatic suspension of the operator's seat and implementation of a passenger seat. Both cabin versions have been designed to be practical and both offer the option of a hard roof or a sun roof with falling object protective structure (FOPS).