Carved into pastures, the road from Fulnek to the nearby town of Odry in the Nový Jičín region provides views of herds of cattle that feed there for most of the year. Those well-kept grass fields belong to the George Farm based in Jerlochovice. Both the pastures and the whole system of cattle breeding are subject to ecological farming. The picturesque countryside of Odry Hills is an ideal place for such activity. The well-being of the animals is obvious at first sight: permanent water supply, enough forage and nearly endless possibilities to hide from the sun under the crowns of giant trees along the pastures.
George organic farm is located in Jerlochovice at the outskirts of the town of Fulnek. It produces high-quality organic veal and beef meat and farms on 310 hectares of permanent pastures. The farm keeps top stud bulls of the Simmental breed and produces first-rate marbled meat of the Hereford breed. It is proud to have been awarded the certificates of Ecological Farming and Product of Ecological Farming. The farm employs highly-qualified and experienced staff who love and care for their jobs. The farm is equipped with farming machinery of the ZETOR brand that makes their work easier and is friendly to the environment. Efficient design and economical operation help to save energy.
'Our farm uses the most up-to-date technologies and provides customers with first-class organic products in top quality. It is our main focus to keep our customers satisfied,' says Jiří Ševčík, the owner of George Farm. And this makes a common ground with us. Customer satisfaction is the most important target for ZETOR as well. Thus, cooperation of the two brands is beneficial for both of them.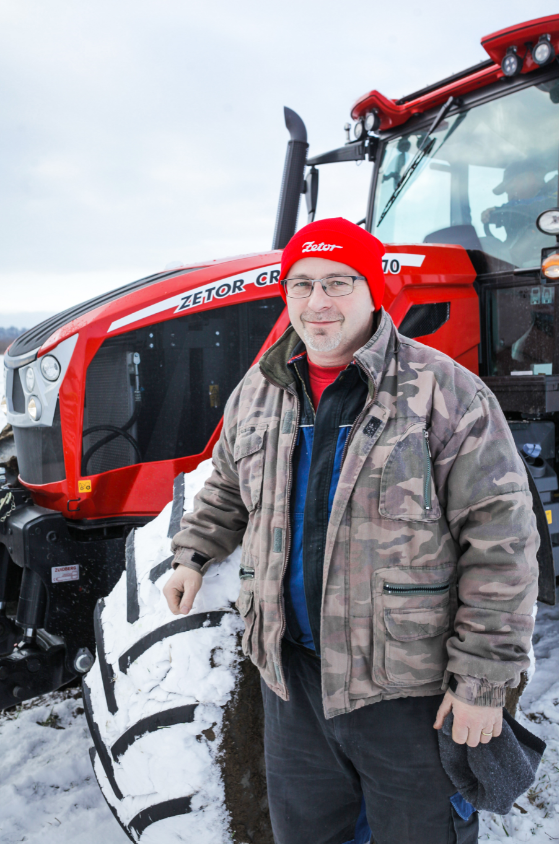 Jobs around the farm are done with three ZETOR tractors, which are taken good care. They are PROXIMA PLUS 105 from 2008, three years younger PROXIMA POWER 115 and FORTERRA HD 150 from 2016. As Mr Ševčík would like to extend his ZETOR fleet, we lent him one of the most powerful and best-equipped tractors of the ZETOR portfolio: CRYSTAL HD 170. Due to longer wheelbase, higher weight and engine power, CRYSTAL is more convenient for ploughing. It is on his own lands, which take 3.1 hectares, that Mr Ševčík could test characteristics of the machine the best. Finally, has CRYSTAL HD 170 attracted the owner of the farm to purchase it? Indeed, it has. Mr Ševčík is really satisfied with the new helper.
ZETOR FORTERRA HD 150, model 2016
ZETOR product portfolio was extended by this model in 2014 and taking it to the power segment of 150 hp. Among the major technical innovations of FORTERRA HD 2016 model is a wider wheel track that improves the stability of the tractor. Cabin suspension and front wheel drive increase the operator's comfort. Another significant update is the engine that has an adjusted cylinder head with four-valve technology. The engine has high torque reserve, which amounts to 35 %, long durability and is easy to start in low temperatures. A deep research was done in the area of noise and vibrations, which led to new design solutions that expect to reach noise level of 74 dB. The design of FORTERRA HD also includes tilting bonnet and safety cabin, reinforced distributor housing and wider axle. This allows bigger load on three-point hitch.
Despite the numerous innovations made on the FORTERRA model range, current tractors of the range are produced in the design ZETOR by Pininfarina. New air-conditioning system, LED packet with lamp controller, engine compliant with Stage V emission standard, innovated technology of plastics and a higher degree of safety – that is what the FORTERRA model range offers to customers in 2020.
Cattle on Mr Ševčík's farm are kept outdoors all year round: on pastures during growing season and in winter shelters in non-growing seasons. Fields that the animals pasture on are taken good care of on George Farm. Parts not consumed by the animals are mowed on a regular basis, which prevents weed spreading. Another important procedure is mulching the pastures after driving the cattle away in the autumn. This levels the ground, sweeps away molehills and spreads faeces, which leads to balanced spread of nutrients. Such pasture treatment is the only possible way to deal with problems such as sorrel regulation in ecological farming where herbicides are not allowed to be used, even on a local basis.
'Just have a look at the happy animals on well-kept pastures and you see a proof that we are successful in making good conditions for animal breeding,' says Mr Ševčík in a proud voice. 'Our approach is rewarded with perfect condition of animals, their welfare and a feeling of having done a good farming job,' he adds.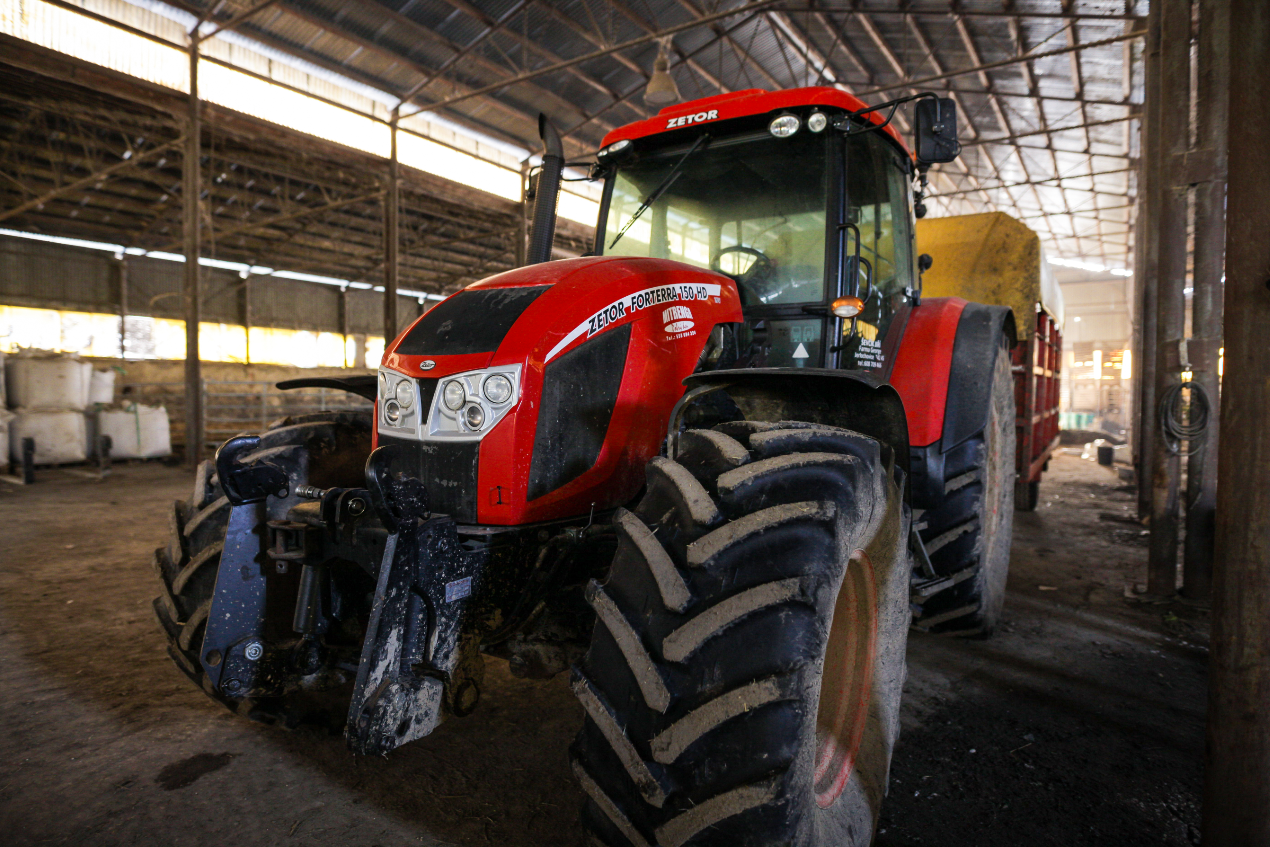 Our visit to the ecological farm took place in late January, which deprived us of the joy of watching the vast green pastures. We met in Mr Ševčík's field not far from Jerlochovice.
Despite the weather, we had a delightful and useful day topped with delicious homemade food. Later we were joined by Mr Alois Mitrenga, owner of MITRENGA a.s., which is a family company with long history of experience and high-quality background. The company has been on the market since 1991. It is an authorized dealer of ZETOR products taking care of customers in North and Central Moravia. In its two offices – in Střítež in the Frýdek-Místek region and in Přestavlky in the Olomouc region – it provides complex services in the area of sales of compact tractors, tractors, farming and road-maintenance machinery, spare parts and service. All tractors of the ZETOR brand on the George Farm were distributed by MITRENGA a.s. company. Our meeting was also joined by other local farmers who were invited by Mr Ševčík. They, too, took the chance to test the CRYSTAL with a five-blade plough OPaLL Agri Jupiter II.
The tractor spent about 10 hours of operation in the field. And how does Mr Ševčík assess CRYSTAL HD 170? Due to better performance and improved drag, CRYSTAL can work with tools with a bigger reserve. Mr Ševčík appreciates that this lowers the wear of both the tractor and the tool. Another positive fact is that speed can be kept between 7 and 10 kph at constant pace of 1,300-1,500 rpm even with the plough. This decreases fuel consumption to the lowest level, below 200 g/kWh.
Generally, our most powerful tractor is appreciated for its favourable fuel consumption and good operational characteristics. Still, what else does ZETOR CRYSTAL have to offer? Economical six-pot engine with the power of 171 hp, which is compliant to the most up-to-date EU emission standard Stage V and is of low environmental burden in relation to exhaust fumes. A new cut and new roof hatch in the completely innovated roof based on the design study ZETOR by Pininfarina improves the view of the loader even more. In addition, it meets the standards of FOPS (Falling-objects Protective Structure) even in standard version. The tractor is also equipped with new working lamps and beacon controller. It includes a number of advanced functions, such as automatic activation of working lamps respective of the selected driving direction and memory. The tractor has a LED packet including four roof lamps and two spot lamps with the option to extend by four more LED roof lamps. Other innovations include new technology of plastics ensuring better temperature resistance and material UV stability. Another great feature is a completely new system of air-conditioning and heating. A commonplace is front axle suspension, right multifunctional panel with electronic control of hydraulic sections, three-point hitch with lifting capacity of 85 kN and ECO 40 gearbox which allows to work at economical 1,750 rpm at maximum travelling speed of 40 kph.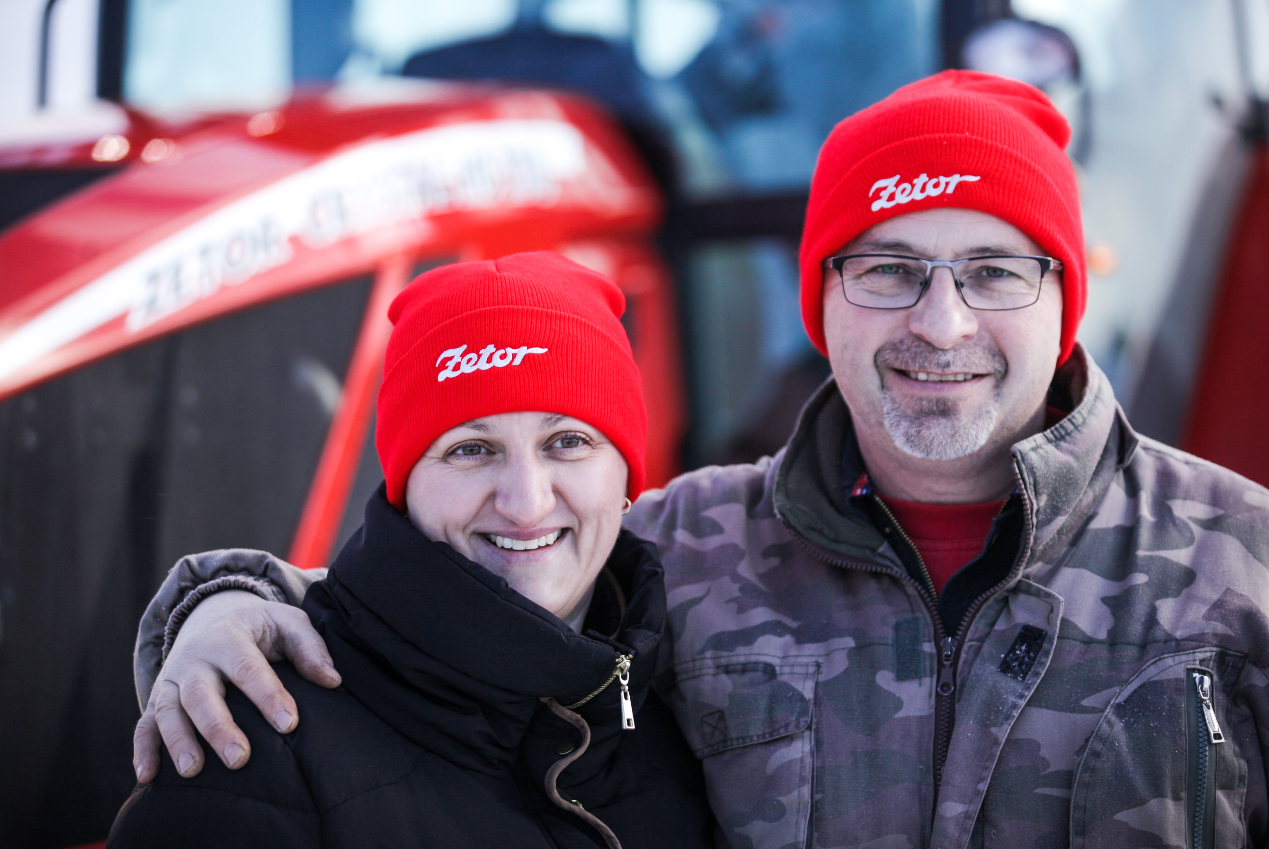 A number of very nice photographs was taken during the event. Some of them will definitely make it into the new ZETOR 2022 calendar which is traditionally published in the autumn.