The idea of Corporate Social Responsibility (CSR) has been around for a number of years. The concept dates back to late 20th century. What does the idea involve? This model means that a corporation is socially accountable to the community in which it operates. A corporation practices social responsibility in economic, social and environmental areas. In short, this approach enhances the good name of the corporation and supports its trustworthiness. The corporation manifests that it cares about the world.
ZETOR TRACTORS a.s. has been practising CSR showing its responsible approach to the society. And its employee's approach because they get engaged in the projects themselves. In 2021, the projects focused on helping children.
Lunches for Kids
On the occasion of its 75th anniversary, the Company has launched the scheme called 'Contribute to a good cause' in which it donated CZK 75,000 to finance a project proposed and elected directly by the Company's employees. In result, the cheque was received by the representatives of the project Lunches for Kids. Our donation is going to cover lunches for 15 kids for the whole school year. And that is the idea of the scheme: purposeful help. It is a fact that school lunches are not a commonplace for all schoolkids.
This issue started to be dealt with eight years ago by a non-profiting organization Women for Women. Gradually, this project became a widely debated topic in the society. Lunches for Kids is not only about providing regular warm meals; it is about breaking barriers between kids who are lucky to take school lunches for granted and kids who cannot afford them without help. We are grateful to be part of this project.
Klokánek Brno
The project Lunches for Children inspired other employees who care about disadvantaged kids. What was the beginning? It all started with a reward that ZETOR TRACTORS a.s. management gave to the Sales and Marketing staff for their responsible attitude to COVID-19 vaccination. Part of the reward was an amount of money that the employees could use as they wished. The total sum of CZK 22,800 was donated to the Fund of Vulnerable Children Klokánek in Brno-Líšeň.
The cheque was given to Marcela Bublová, the Fund's Director, by Petr Konštacký, Sales and Marketing Director. As Ms Bublová confirmed, the donation helped to gather a sum of money that will be used to build a garden gazebo. This will allow kids to spend time in the open air even when it is raining.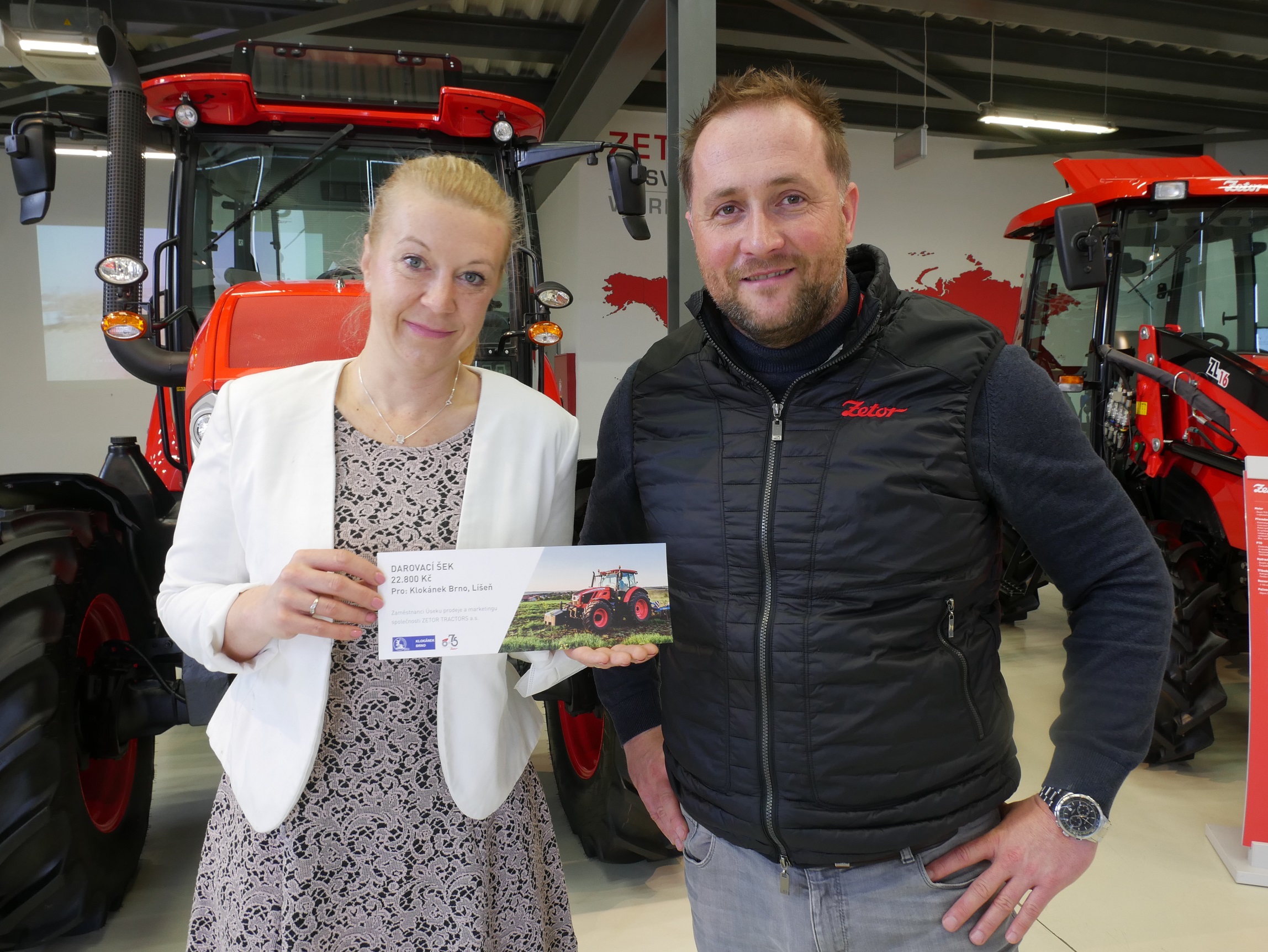 The Fund provides temporary family environment for children aged 0-18 who, for serious reasons, cannot stay in their families. The Fund provides all basic human needs. The children are taken care of until they are able to return to their own families, foster families, or move on to institutions for a long-term care.
With this article, we wish to express our gratitude and appreciation to those who organize help for people in need and who never give up despite the difficulties sometimes caused by the system.