ZETOR TRACTORS a.s. participated in the most important farming exhibition Agritechnica 2017 which took place between November 12 and 18 in Hannover, Germany, and was visited by 450,000 people. Their attention was attracted by the ZETOR stand not only thanks to attractive presentation of the models or the accompanying program; ZETOR PUB also proved to be very popular.
Both the stands of ZETOR TRACTORS a.s. and ZETOR SYSTEMS were visited by large numbers of people. The brand presented its five newest tractors: MAJOR HS in the new design, new HORTUS and UTILIX tractors, and innovated FORTERRA and PROXIMA. A number of potential distributors from Africa, South America and Asia were also interested in ZETOR; the representatives of the Company were negotiating possible cooperation with them. At the ZETOR SYSTEMS stand, the visitors could see the in-house produced ZETOR engines and transmissions; it is quite rare nowadays that a company produces and develops its own engines and transmissions. Even this place witnessed negotiations with possible customers for components.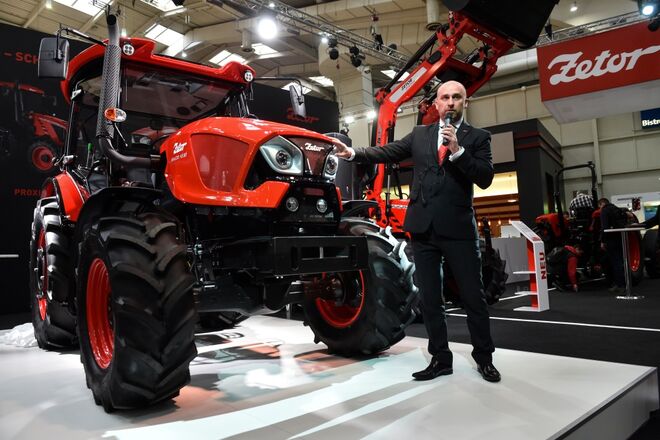 "Now, after some time, we can say that the participation of ZETOR in Agritechnica was once again successful. We succeeded in approaching new dealers, distributors and suppliers. We believe that some of the contacts will turn into long-term cooperation. Agritechnica was visit by approximately 450 thousand visitors, the heft of which was seeking for our stand. We were active not only on the spot but also on social networks where we were posting about all innovations and the whole exhibitions on a daily basis," says Robert Todt, Sales and Marketing Director, ZETOR TRACTORS a.s., evaluating this year of Agritechnica.
The presence of nearly one hundred journalists at the press conference, where the new ZETOR DESIGN MAJOR HS and HORTUS were presented, is a proof of the interest in ZETOR tractors. At the conference, the new calendars, both product calendars and their limited editions, were launched. The event could be watched not only by the visitors of the exhibition but also by fans all over the world through a live show on the Company's website www.zetor.com. The brand encountered over 30 spots in Czech and over 120 spots in foreign media while further spots keep appearing.
One of Agritechnica's attractions was definitely ZETOR PUB which was visited by thousands of visitors. Altogether, they drank here 4,320 beers. Thanks to beer as well as the model posing by the new tractors attracting visitors to take a photo with her, there were long queues by the ZETOR stand. The next year of Agritechnica will take place on November 10-16, 2019, and by now it is clear that ZETOR and its further innovations will now miss it.
You can see what was going on at the ZETOR stand this year in the following video: https://www.youtube.com/watch?v=iM40VGG9WVw