ZETOR brand participates in international farming exhibition Agro Animal Show 2017 which takes place February 15-17 in Kiev. At the show, ZETOR is represented by Agro-Temp Company, the distributor of ZETOR tractors on Ukrainian market. Agro-Temp Company presents all model ranges of tractors which the ZETOR brand currently offers.
The Kiev exhibition focuses on technology of breeding and feeding farming animals, devices for plant growing and logistics and storing farming plants and crop. At the ZETOR stand, visitors can see CRYSTAL 160, FORTERRA HD 150, FORTERRA 135, PROXIMA Plus 110 and MAJOR 80 models.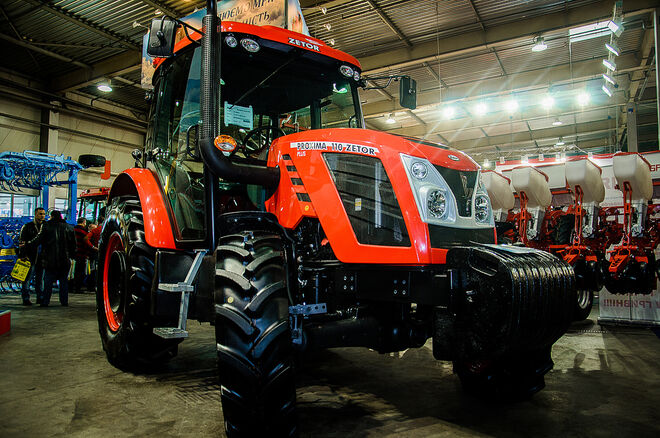 "Cooperation of ZETOR and our Ukrainian distributor, Agro-Temp Company, is mainly related to sales of tractors, spare parts and providing service. Due to unfavourable geo-political situation in 2014-2015, when we could witness decline in export and sales of tractors, we are happy that tractor sales increased by tens of pieces in 2016. This resulted in strengthening the position of the ZETOR brand on Ukrainian market," says Robert Todt, Sales and Marketing Director of ZETOR TRACTORS a.s. commenting on the current situation in Ukraine.
The exhibition is going to be visited also by Marian Jurečka, Czech Ministry of Agriculture, accompanied by the representative of Czech Embassy in Ukraine. The Ukrainian distributor rewarded the participants in online survey and announced the best customers for 2016. Visitors can look forward to entertaining program and becoming more familiar with individual products of ZETOR.
In recent history, the ZETOR brand has been on the Ukrainian market since 2012. ZETOR TRACTORS a.s. imports to Ukraine tractors of all model ranges; the most popular models among the customers in Ukraine are FORTERRA and PROXIMA PLUS – versatile tractors which can be widely used both in breeding and growing. For Ukraine, farming is one of the key branches of economy; the country is one of the biggest exporters of a wide range of faring commodities in the world.