During the Royal Highland Show in Edinburgh, Scotland, from 21 to 24. 6. 2018 visitors had the opportunity to see eight ZETOR machines, including new items, from the entire portfolio of the brand. Various models from the PROXIMA and FORTERRA ranges were on display, and visitors could get acquainted with the new design of the MAJOR or with the machines from the new model ranges UTILIX and HORTUS.
"We had already presented the new HORTUS in the British Isles at the start of the year, but the MAJOR in its new design and the UTILIX model range had its premiere now at the Royal Highland Show. We are very pleased by the interest of the general public in the new design and in the new models with four-cylinder engines ranging from 40 to 70 horsepower that expanded the range of the ZETOR brand at the end of last year," says Lukáš Krejčíř, director of the Financial Section of ZETOR TRACTORS a.s.
MAJOR HS in its new design is the first tractor with the new, modern appearance and will be available from July. The aim was to create a product with high aesthetic value and to give ZETOR a new iconic vision reflecting the values of the company. Over time all the machines of the ZETOR brand will be given the new attractive ZETOR DESIGN. Next year the appearance of PROXIMA and FORTERRA will also change.
The UTILIX model range consists of multi-purpose tractors intended especially for municipal services, gardening, small farms etc. Tractors are available in the version UTILIX HT 45 with 43 horsepower, and the more powerful UTILIX HT 55 has 49 horsepower. The machines have a three-speed hydrostatic transmission.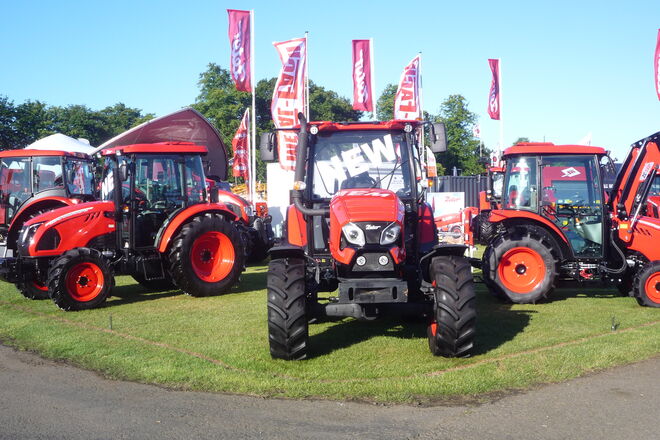 The HORTUS range includes the tractors HORTUS CL 65 and HORTUS HS 65 with a performance of 67 horsepower. HORTUS is a compact universal tractor for work on small farms, in municipal services, parks, gardens or sports grounds. The machines have a mechanical gearbox with 24 forward speeds and 24 reverse speeds, and the HORTUS HS model also has a so-called Power Shuttle - a reverser allowing change of direction even under load.
"We participate at the Royal Highland Show nearly every year, and we thus utilise the opportunity to present new items from the world of ZETOR to the general public. In Britain the greatest interest is in the PROXIMA model range, which finds its greatest use in animal husbandry, which is typical for British farming," adds Tibor Liška, director of ZETOR UK, Ltd.
The ZETOR brand has been active in Britain for more than 50 years and over this time has exported more than 37,000 tractors to the country. The brand is currently represented by ZETOR UK – a subsidiary of ZETOR TRACTORS a.s.