The book entitled Zetor Tractors written by Arthur Nutbey from the Netherlands has proven that if you are keen on and passionate about something and you are able to enthuse others, the result of your work is always worthy. Arthur has always been fascinated by farming machines and tractors. 'As a little boy I was collecting leaflets with tractors wherever I could get them. I remember being especially impressed by one of them: it depicted ZETOR 25 A/K from 1953. I thought to myself how astonishing and robust the tractor was,' says Arthur remembering his youth.
As the time went, the ZETOR brand became a matter of the heart for Arthur and he set out to find out as much as he could about it. However, he realized that there was no complete story available in Dutch, his mother tongue. Nor did he find any in English, German or French. This was a good starting point to try to extend his knowledge so far and publish a book. The several years of hard work brought a book that presents complex information about the origins and development of the brand and its product in the context of the decades. It was published in Dutch in 2009 and translations to Czech, English, German, and French followed. In 2015, just before the 70th anniversary of the ZETOR brand, the book was revised and updated. More on the book as well as the author himself and his other books can be found on his website www.arthurnutbey.com.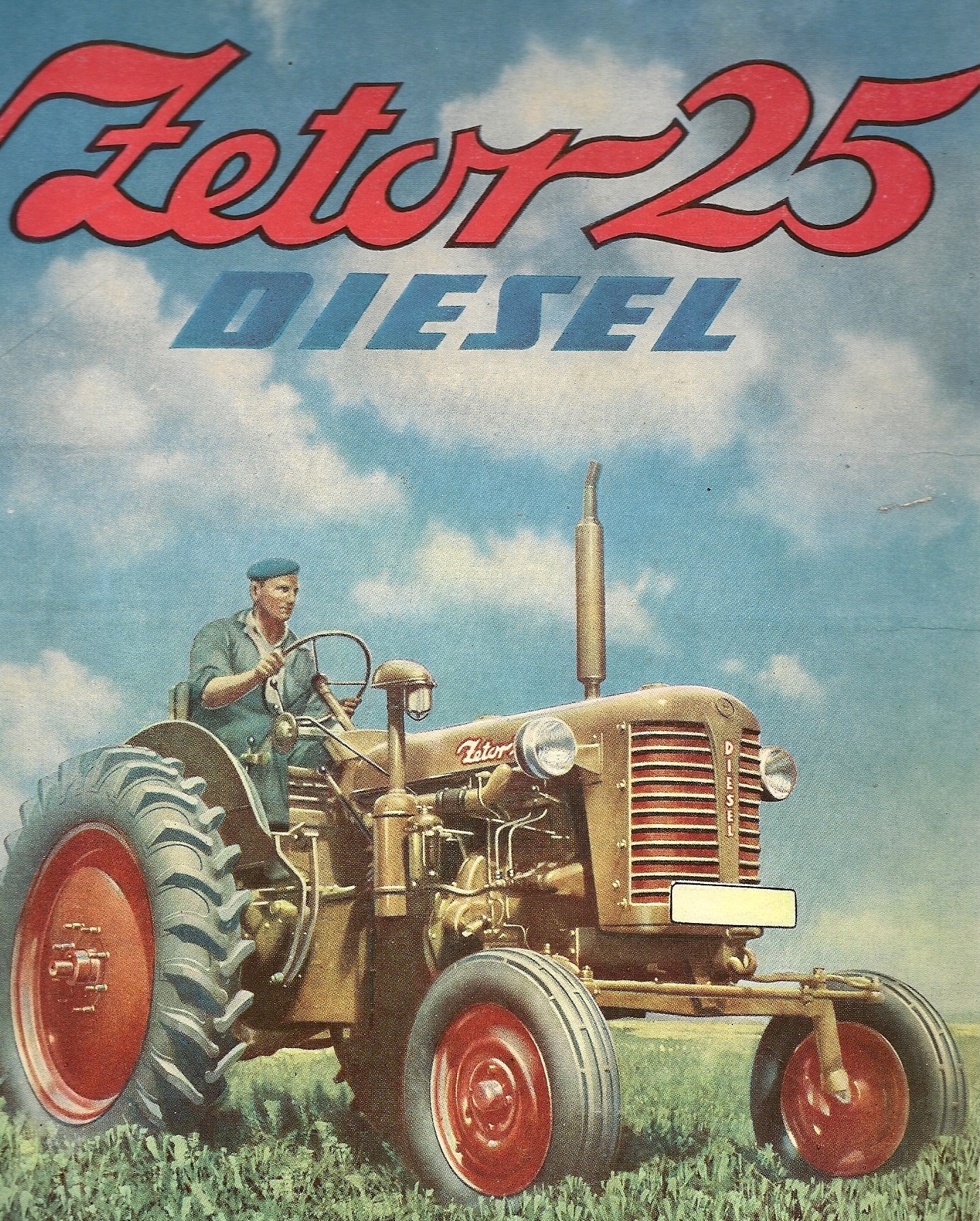 'The feedback from readers in all countries was very positive. I think that the success of the book is also due to its writing style. It is a story complemented with high-quality photos,' says the author assessing his book. And we agree by all means. ZETOR's history is very long and varied and the book presents it not as a corpus of facts but as a catching and unique story of the world-famous brand.
It was during our cooperation on this book that we got to know Arthur, who is a likeable and erudite person. We learned that he owns two Z 25 tractors and as he says, they are his iron friends with a beautiful two-cylinder engine sound. Arthur was born in 1946 in Zeeland, the Netherlands, as the eldest son of a priest. After finishing studies in a business school, he did his military service and settled for some time in the Republic of South Africa. Three years later, he returned to the Netherlands. Now he lives in Alphen aan den Rijn, he is married and has two sons. His hobbies are industry and military history, crafting, field hockey, and squash. And of course, farming machines. 'I remember that my mother knew all the major tractor brands from the leaflets I was collecting,' says Arthur with a smile. 'Some of my friends are impressed with my hobby; others thinks I'm crazy, but that's a positive exaggeration.'
His professional career is connected to farming machinery as well. For 25 years, he was working as a PR and Marketing Communications Manager in the Vicon Company, which is a Dutch producer of farming machines. He retired in 2007. Three years later, on the occasion of the 100th anniversary of the company, he published a book entitled Vicon, 100 years of agricultural mechanization. While studying the history of ZETOR, he came across the issue of the development of Czechoslovakian industry in the 20th century. He included one of the periods of this history in his other book called Zbrojovka Brno – From Firearms to Tractors, published in 2015. Like the book about ZETOR, it is an illustrated history of one of the world's most successful firearms manufacturers in the interwar period. Currently, Arthur is focusing on military history. He studies the role of Czech tanks in World War II. Maybe we can expect the publishing of another interesting book soon.
When reading this article, you might have noticed that Arthur Nutbey' birth year is the same as the year of creation of the ZETOR brand. We can argue if it is a coincidence or fate; anyway, this year is an anniversary for them both. Dear Arthur, we wish you lots of interesting subjects for your future books, many enthusiastic readers and, above all, good health and joyful spirit. Those of you who have not bought the book Zetor Tractors yet, visit our e-shop and place an order. You can be sure it is really worth it!