ZETOR TRACTORS a.s. has the opportunity to participate in educating young technicians. The tractor manufacturer from Brno, Czech Republic, did not hesitate to support this innovative project of the Vysočina Region. The Company has become a partner of this year-long event called "Assemble Your Own Tractor" which unites students of four selected secondary schools in the region specializing in farming. Following detailed design plans, it will be their task to assemble cabinless ZETOR PROXIMA tractors.
"ZETOR TRACTORS a.s. Company as well as our authorized retailers have a long-term problem of hiring highly-qualified staff. The Build Your Own Tractor Project aims at the first and key group of secondary school students, future technicians. In the event, the students can become familiar with real tractors and see how they operate in detail during their assembly," says Jana Ragasová, HR and General Affairs Director of ZETOR TRACTORS a.s., explaining the motivation of the Company. For ZETOR, cooperation with the Vysočina Region in such kind of project is a new thing. "It is an outstanding opportunity for us to show young people who and what stands behind the ZETOR brand, get the brand more into the public eye and, possibly, attract new staff. For this reason, we cooperate in this project with the local retailer, Moreau Agri Vysočina Company," adds Jana Ragasová.
The ZETOR Company is going to supply the schools with four pieces of ZETOR PROXIMA tractor without cabin. Apart from the parts, the Company will also students with supply design plans so that they can assemble the tractors together with their teachers. "We believe that this is going to be a real challenge for the students and fun at the same time. To make things clear and help the students in the beginning, we will provide their teachers with support in the area of assembly and disassembly," said Jana Ragasová. While technical make and composition must be exactly the same making students comply with given procedure, any design features and the overall appearance of the tractor is subject to their taste. It is only up to them whether they stick to the traditional combination of black and red or they opt for a different option.
"The Build Your Own Tractor Project aims at regulating the ever decreasing interest of students in the field of farming. Through well-established activities, it attempts to help to make such fields of study more popular and offer schools a different activity to amuse students, improve the prestige of the field and attract the attention of both public and professionals," says Jana Fialová, councillor for the Vysočina Region. The cooperation, which will be initiated with the beginning of the next academic year, was officially concluded during Technical Forum in Valeč. The project is participated by Czech Farming Academy in Humpolec, Secondary Professional School in Třebíč, College and Secondary School of Farming and Technics in Bystřice nad Pernštejnem and Secondary Professional School in Nové Město na Moravě.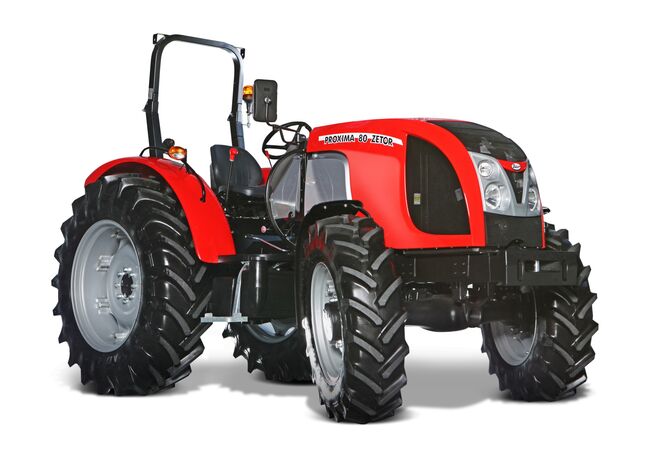 Cooperation so far
ZETOR Company supports and educates your technicians throughout the whole year. On a regular basis, it cooperates with three secondary schools in Brno, namely Secondary Professional School and College Sokolská, Secondary School of Engineering and Electronics Trnkova and Secondary Technical and Economic School in Olomoucká Street. Students of the schools have regular two-week trainings and they can also get a summer job in the Company. From the beginning of the next academic year, there are also going to be long-term trainings which the schools hope to result in even more involvement of students and their bigger interest in the field.
Similarly, the Company cooperates with University students from Technical University, Mendel University and Masaryk University in Brno, Mining University – Technical University in Ostrava and Tomáš Baťa University in Zlín. Thus, these future engineers have an opportunity to write their Bachelor or Master Theses supervised by professionals and also have long-term trainings. They can also apply for internships in Technical Division, Quality Division, Legal Department, HR or Customer Service.