On the occasion of a business mission with the President of the Czech Republic to Russia, ZETOR TRACTORS a.s. and Kovrov Electro Mechanical Plant (KEMP) have signed memorandum on the extension of mutual cooperation.
Signing the memorandum is another important step that enables ZETOR TRACTORS a.s. to enter another significant market abroad. The document contains the promise to supply six thousand sets of FORTERRA tractors between the years 2018 and 2022. Part of the promise is also the delivery of three-cylinder engines and provision of technical support during production of tractors up to 50 hp. The Russian partner also showed interest in other models, namely PROXIMA and CRYSTAL.
The memorandum was signed on Wednesday, November 22, in Moscow. The occasion was attended by Miloš Zeman, President of the Czech Republic, and members of governments of Russia and the Czech Republic. ZETOR TRACTORS a.s. was represented by David Kollhammer, Strategy Division Director; KEMP was represented by Vladimir Vyacheslavovich Lebeděv, Managing Director.
On the occasion of the International Engineering Trade Fair in Brno in early October, the first agreement was signed between ZETOR and the Russian partner on the delivery of 450 sets of tractors to Russia in 2018. Conclusion of the new document means extension of mutual cooperation both in the duration of the contract and of the amounts of deliveries. Entering Russian market is considered by the Company an important milestone in the history of the brand. "By entering Russian market, we would like to strengthen the position of the brand in Russia. We are happy that our Russian partner is satisfied with our products and services and that we are able to find the space for extending our cooperation," says David Kollhammer, Strategy Division Director, ZETOR TRACTORS a.s. As a result of the long-term contract of such high value, the order is a significant event not only for ZETOR but also for Czech economy.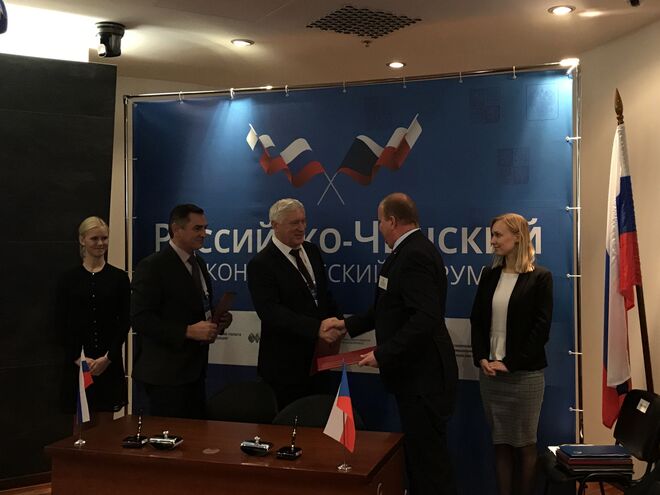 KEMP Company specializes in the production of hydraulic systems and components, CNC machines, wheel loaders and components for universal robotic systems. Apart from homologation of the tractors produced in Russia, KEMP is going to deal with all business and service matters in relation to ZETOR ANT tractors. The tractors in Russia shall be used on breeding and growing farms, in road maintenance and civil engineering.