The Farming Company Horní Krupá, a.s. is based in Havlíčkův Brod county. It specializes both in crop growing and animal breeding. In total, it farms on 1,567 ha of farming land, 1,240 ha of arable land and 326 ha of permanent pastures. The farm is kept in perfect condition by fifty employees and professional farming machinery. The company is run by the Director, Mr. Jiří Novák, who has been working there for forty years.
They use the vast fields to grow rapeseed, wheat, potatoes and forage. They must be really busy in this respect to get sufficient reserves as there is a lot of cattle to feed: 490 dairy cattle, 230 calves, 2,400 pig fatlings and 150 sow pigs. In large amounts, they also grow different kinds of potatoes, e.g. for crisps and starch production for further processing in local starch factories in Pelhřimov and Horažďovice. Mr. Novák has the credit for the construction of three new silos, which made the job considerably easier. 'There were no subsidies to build the silos and the investment was as high as 35 million crowns. One silo can store up to 12,500 tonnes of wheat.' Due to changeable weather, it is otherwise difficult to maintain standard quality of grain. Thanks to the new technologies, the farm does not need to be worried about damp; grain can be harvested, dried and stored. Thus, they can sell it only when there is more time, not in the middle of the harvest. 'This also allows us to better calculate the price. All the time, the tractor is available for the harvester and does not waste the time transporting grain,' Mr. Novák adds.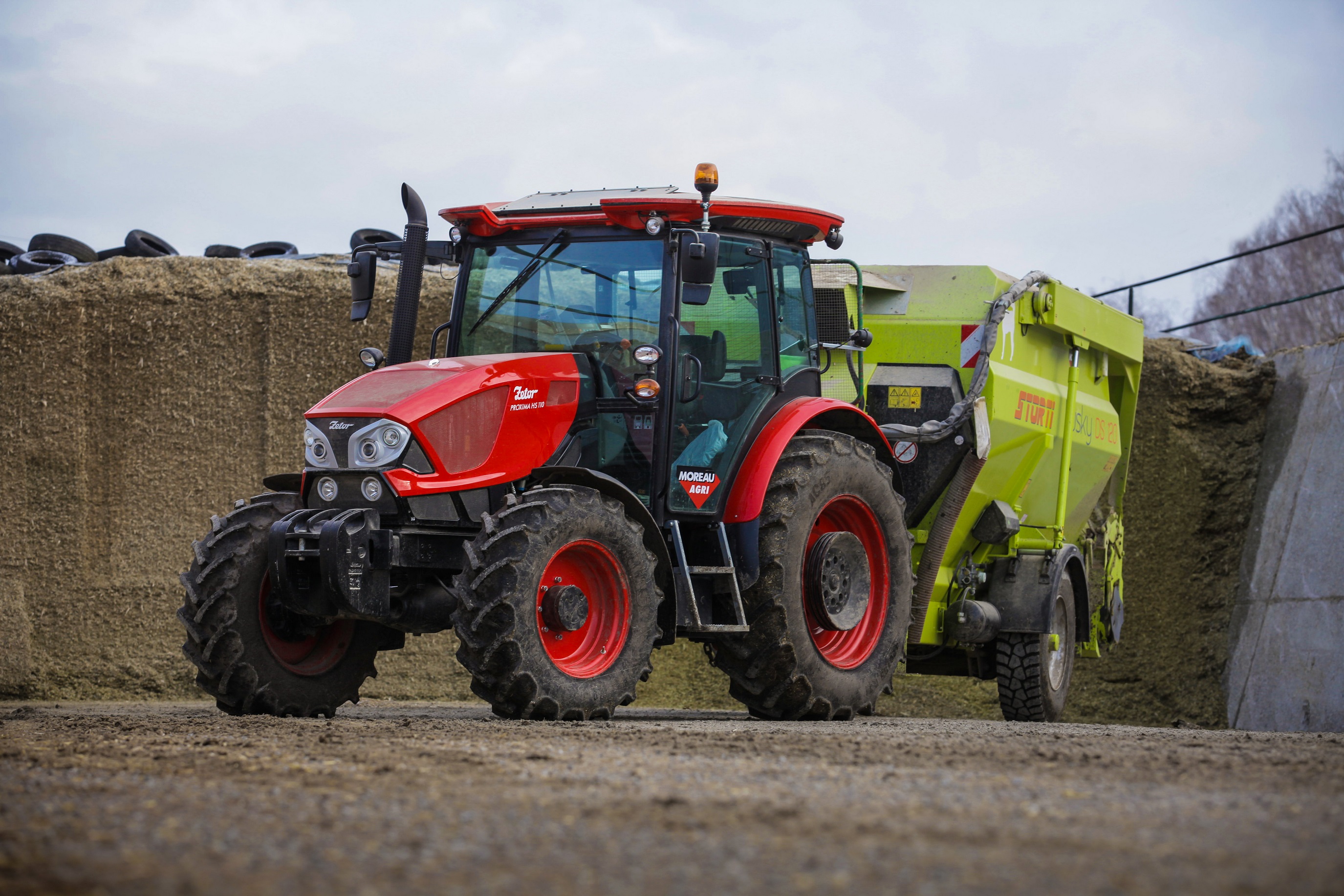 Recently, the Farming Company Horní Krupá, a.s. has used subsidies to purchase a new tractor with a feeding trailer. And because it was PROXIMA HS 110, we stopped by to take a picture of it for our next year's calendar. As usual, we asked a lot of questions to find out how the tractor works. Together with the new feeding trailer STORTI husky DS 120 with the volume of 12 m3, it was distributed by MOREAU AGRI VYSOČINA spol. s r.o. in Nové Město na Moravě. Earlier, they used a feeding trailer with the volume of 9 m3; the new bigger one should ensure more economical operation in respect of wear and fuel consumption. As Mr. Novák says, when purchasing new farming machinery, the services of the dealer are the key factor, followed by prompt service and overall attitude. 'All this is met by the family company MOREAU AGRI VYSOČINA. For this reason, we are very much satisfied with their services. The ZETOR brand is still exceptional in the acceptable price of spare parts and maintenance,' says Mr. Novák assessing the brand.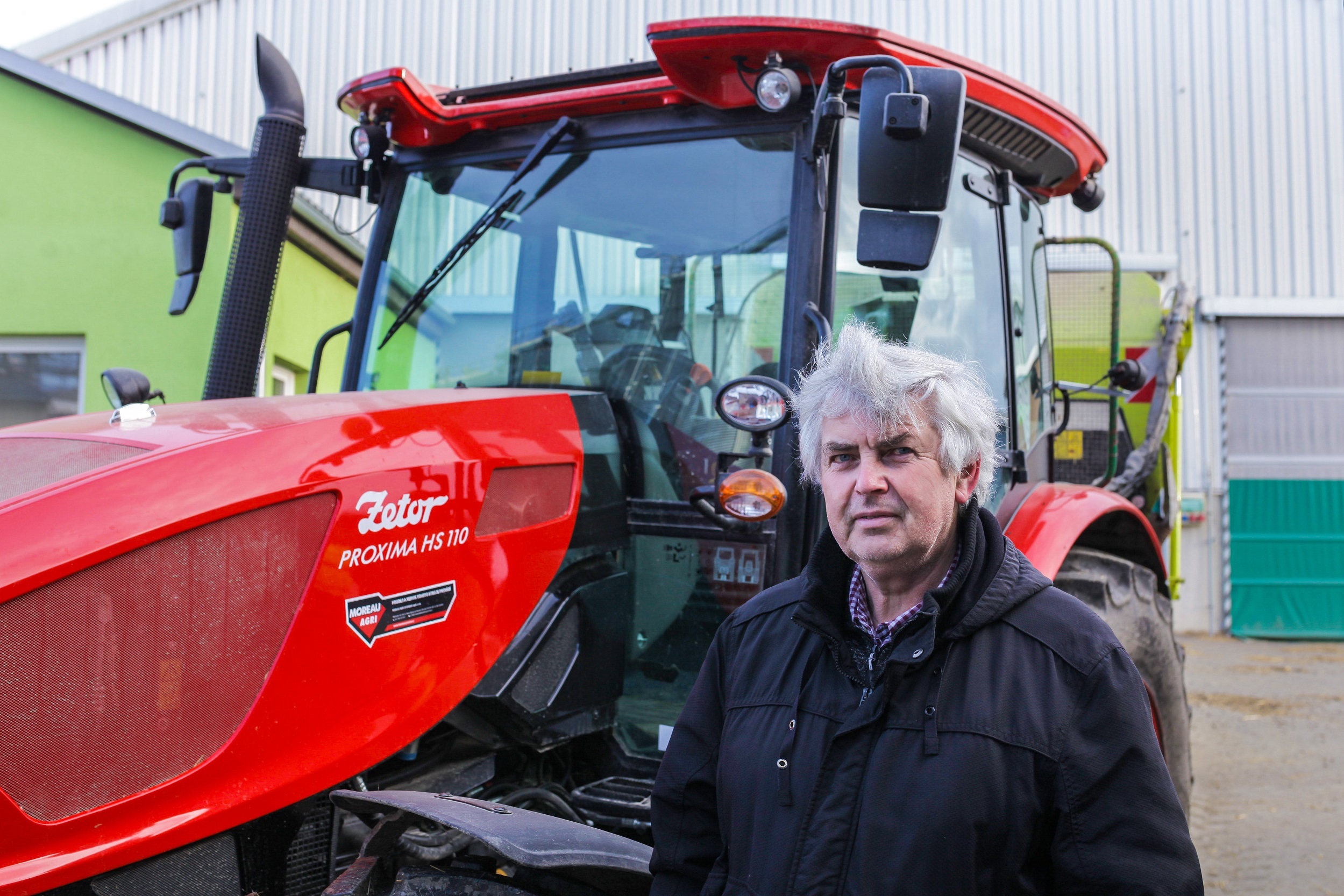 Mr. Jiří Novák, Director of Farming Company Horní Krupá, a.s.
When we arrived at the location early in the morning, the temperature was around zero and just like the day before, there was five centimetres of snow. Usually, at this time, the tractor with the feeding trailer has been already in operation for four hours. In addition to the new tractor and trailer, there are several other tractors and farming machinery including older as well as more recent ZETORs. Yet, the newest one is this red beauty of the PROXIMA model range. Since early 2020, it has been available in the new designed inspired by a Pininfarina design study. Apart from the new coat, the tractor offers several technological innovations. Worth mentioning is better temperature resistance with improved air circulation in engine area, new lamps with higher luminosity, completely innovated roof with a better view from the cabin and more powerful air-conditioning. Mr. Novák has decided for this model having been inspired by a different local farm. 'The Farming Centre Vesa Česká Bělá, a.s., which is a neighbouring farm, purchased PROXIMA with a feeding trailer a year ago and they have been satisfied with how it operates. Now, it has as many as three thousand operation hours,' he says.
On the farm, there are tough conditions for a PTO clutch in a tractor operating with a feeding trailer but we believe that PROXIMA can stand up to the challenge without any problems. The PTO has been designed to transfer full engine power to the equipment. We wish that the experience with operating the tractor is at least as positive as it is in Farming Centre Vesa Česká Bělá. We will tell you their story some other time.