This autumn, the building of ZETOR POLSKA Sp. z o.o. has been awarded by Polish Association of Engineers and Technicians in Kalisz winning the "Building Master" Award for 2016. The building is appreciated by professionals for their multi-functionality and attractive look.
Annually, the competition is organized by the "Polish Association of Engineers and Architects". Submitted projects include buildings in the territory of Greater Poland Voivodeship. The jury was composed of outstanding personalities of Polish engineering who choose and award the best projects in individual categories. The building of ZETOR POLSKA Sp. z o.o. was successful in the Industrial Building Category as the jury appreciated mainly its versatility, universality and attractive, modern, state-of-the-art design.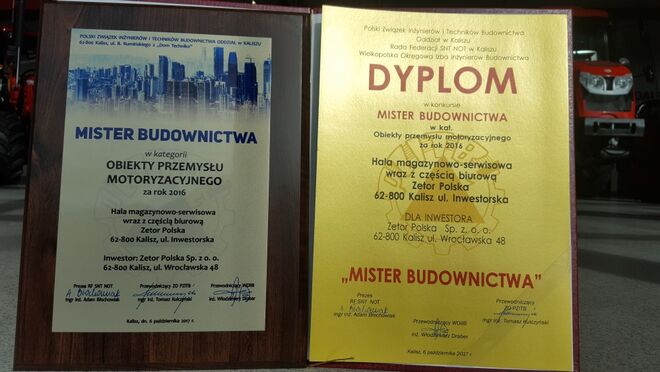 "We are very happy to win the award. F. B. Antczak, the project leader, nominated the building of ZETOR POLSKA for the competition. We are happy that the new building was successful in the competition with other projects and was appreciated by professionals," says Arkadiusz Fułek, Director of ZETOR POLSKA Sp. z o.o.
The Building Master Award is awarded to finished projects. In the 43th year of the competition this year, the total of 14 winners was awarded in different categories.
The building of the new seat of ZETOR POLSKA Sp z o.o. started in late 2015. It was finished in June 2016. The total cost of the building of the new headquarters exceeded CZK 60 million. The design of both the interior and exterior is in compliance with the corporate style of the ZETOR brand.
"Reactions of people who drive along the building have been very positive since the very beginning. We are very happy about the fact that people like the premises. Yet, starting the new centre is not the end of our striving. Maximum attention is paid to the strengthening of the influence of the ZETOR brand on Polish market," concludes Arkadiusz Fułek.