For the first time in history, ZETOR TRACTORS a.s. company was awarded Certificate of Excellence, thus making it among the icons of Czech industry. ZETOR has been certified for successful implementation of the combination of three management systems: quality, environment and energy management.
"The Certificate of Excellence opens new possibilities both on domestic and international markets during negotiations with our partners and approaching new subjects for cooperation. The certification proves that the Company puts emphasis on continuous improvement in the area of quality, environment protection and lowering cumulative energy consumption. The interconnection of all systems, their maintenance and improvement results in more satisfied customers, staff and last but not least to higher profit," says Martin Blaškovič, Managing Director of ZETOR TRACTORS a.s.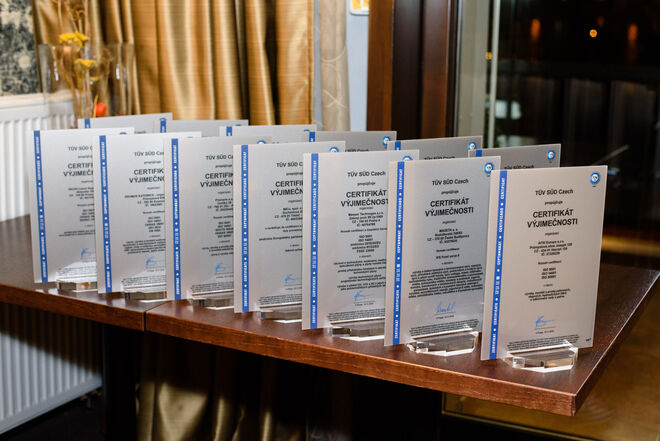 On a long-term basis, ZETOR TRACTORS a.s. Company has been striving for improvement in the area of production, products, and services; close attention is paid to the Company's approach to staff and environment as well as to decreasing energy consumption. In late 2015, the systems of environment and energy management were introduced in ZETOR for the first time. Together with quality management system, which had already been in existence, they were certified at the same time by a renowned TÜV SÜD certification company. Another audit took place in November this year and it was related to implemented ISO 9001 and new introduced ISO 14001 and ISO 50001. In addition to the effectiveness of the implemented systems, the audit has also proved the process of their continuous improvement.
"Final results of all three audits shall be officially published in spring 2017; however, we can already assume that we have successfully proved the sustainability of all three certificates," adds Martin Blaškovič. "Implementation of standards is a complex process which starts with the decision of the Company to adopt ISO conception. What follows is analysis of current condition, continuous staff education and documenting responsibilities and competences. This leads to setting up measurability and continuous assessment. Eventually, the system results in continuous improvement of the Company and its products towards customers, staff and other groups of people," says Martin Blaškovič explaining the process of implementation of standards.
Implementation of management systems is crucial in improving quality, environment and lowering energy consumption. This eventually makes ZETOR tractors more environmentally friendly and lowers the costs for their production and operation.