An incredible deed was accomplished by Martin Havelka who covered the distance from his hometown in the Czech Republic to tractor oldtimer get-together in Poland with his ZETOR 25. He managed to drive 800 kilometres in four days. His destination was the seaside city of Lazy. There were no complications on the way. The only thing he needed to get there was 90 litres of diesel. The adventure was split in several legs stretching from 150 to 220 kilometres.
"With my ZETOR 25 I regularly visit various events in the Czech Republic and I always try to drive the tractor there. There were no problems along the way. My Twenty-Five needed just diesel. Only the last day when I got to Lazy, I changed one bulb in the rear lamp," says Martin Havelka as he comments on his journey.
The public was attracted by the journey; it was even officially supported by Czech Embassy in Warsaw. At the end of his journey, Martin Havelka entered the city accompanied by police and other participants of the oldtimer event. Following the arrival, the historical farming machines get-together was officially pronounced open.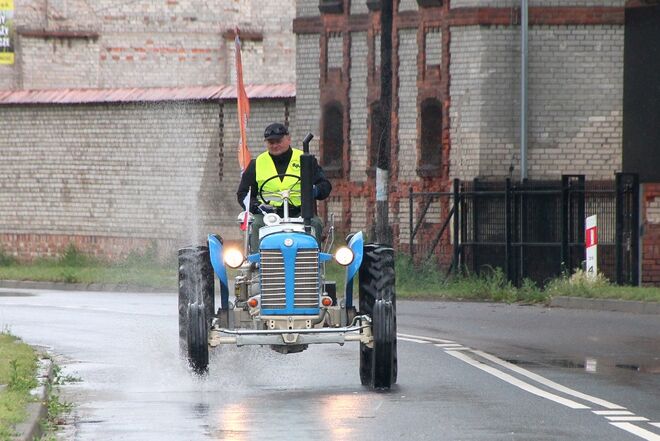 Photo: Lenka Myskova
"800 kilometres with a machine aged over 50 years is a unique accomplishment. Through making the journey with a historical Zetor tractor, Martin Havelka demonstrated that our machines are really reliable. We are very happy about his success and we would like to thank Mr. Havelka for strengthening our brand," said Margaréta Víghová, Corporate Communications Director.
Zetor 25 has a 70-year long history. Between 1946 and 1961, more than 160,000 of these tractors were sold. The first manufactured tractor in 1946 was marked Z 25. This was the beginning of serial production and further development of the popular machine. In 1949 the tractor was updated and the result was the legendary Zetor Z 25 A which offered several benefits at that time: improved dashboard including thermometer, comfortable padded seat, hydraulic three-point hitch, optional cabin, differential lock and adjustable front- and rear-wheel track.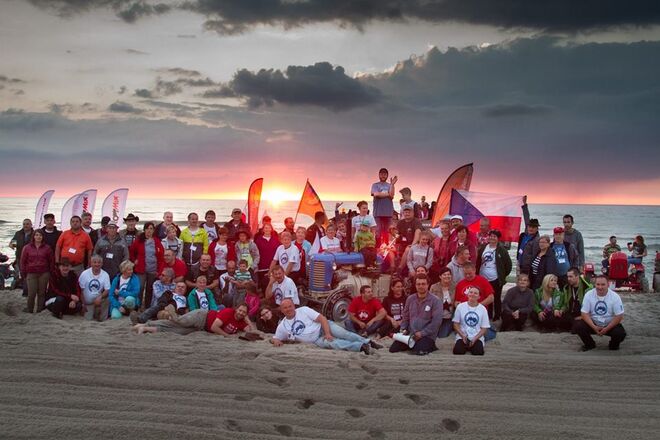 Photo: Lenka Myskova
Interview with Mr. Havelka:
Zetor 25 has got a long history; today it is a legendary machine. How did you get yours?
I have been fascinated by Zetor 25 since childhood. I got my first Twenty-Five only six years ago though. It was still functional but in a very bad condition. Before that I had recommended several Twenty-Fives to my friends but I did not have enough space for the tractor myself.
Are there any other similar machines in your garage?
Yes. Currently I have three Zetor 25 tractors and one more in spare parts and components. Only one of them has been finished so far, the others are either being renovated or they are waiting to be renovated in the future.
Are tractors "just" a hobby for you or do you also use them for work?
I am really familiar with tractors because I have grown up among them. I come from and still live in a village. Moreover, my job is utilities including vegetation services. Twenty-Fives are my great hobby; however, I don't use them at work.
When did you start renovating machines?
I have been repairing machines since I was at school. I started with more complex renovations 8 years ago. It is about getting more experience, equipment and possibilities.
How long did it take to get your 62-year-old machine into its current condition when it is able to cover 800 km without any major difficulties?
The overall renovation took one year, from late June 2013 to early June 2014. My goal was to take part in a competition called "Great-grandfather's Tractor 2014" organized by National Agriculture Museum in Čáslav and I made it.
Have you made any special adjustments on the tractor?
There are no special adjustments on the tractor. I built the whole transmission so that the tractor could drive on roads quickly. I travelled the whole republic to get parts which were completely new or at least only slightly used and I was successful. I built the transmission with calculated speed of 32.8 kph. According to radars along the roads, it is not a problem to go 36 kph. The engine has a new head, injection pump with accessories and water pump. The base of the engine like crankshaft , pistons and sleeves was last repaired in 1968 in STS Hodonín. Everything else like brakes, clutch or front axle has been renovated or bought new.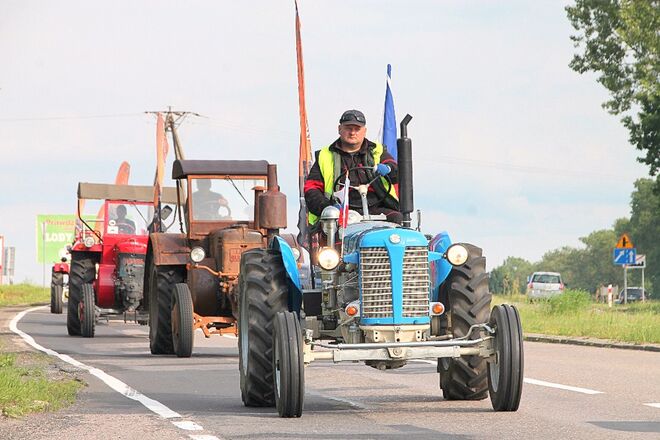 Photo: Lenka Myskova
The majority of the participants brought their machines to the oldtimer event in Poland on trailers or by trucks. How did you get the idea to drive the tractor there?
At first I also wanted to bring it on a trailer. After exchanging emails with the main organizer I accepted driving the tractor as a challenge because I learned that last year Ursus C45 drove to the event covering nearly 700 km from Bielsko-Biele. I decided that if Ursus can make it, then Zetor can as well. I drive my Twenty-Five to various events in the Czech Republic anyway. I knew that legs stretching from 200 to 250 kilometres should not be a problem.
How long were you planning the journey to the Baltic seaside?
I knew that I was going to drive there two months in advance. Due to a lot of changes on the side of the Polish organizer, I made the final planning only one day before departure. For example driving through Poznan was planned right on the spot.
What did you need to organize the trip?
The most important thing that I needed to organize the trip was support and help from my wife Lenka. Together with my six-year-old son, she accompanied me by car thus providing a base and technical support for me. She was taking pictures and making videos during the whole journey and she provided overall support to me so that I could continue in the trip. She had never driven through big cities or outside the Czech Republic before. Therefore I am really thankful to her for her support. The next thing I needed was 100 litres of diesel and waterproof clothes because every day I drove at least 80 km in rain.
The journey was really long. What was the most complicated thing about it?
Actually, there were no complications; everything was solved on the spot. There were some minor difficulties, for example driving through Poznan, but we were helped by our Polish friends. They also provided accommodation and food for us on the way. I want to stress that nothing was organized in advance; everything happened spontaneously during the journey. I really want to thank my Polish colleagues for that.
Did you have to solve any troubles on the way?
I didn't have to solve any problems. The only thing that my Twenty-Five needed was diesel. Only the last day in Lazy I changed one bulb in the rear lamp. That was all.
Most people carefully keep their oldtimers in the garage and they do not use them very often. How often do you drive your tractor?
I have built this tractor for driving instead of a motorbike. If the weather is nice, I always try to go out with the tractor. It spends a long time in the garage over the winter. I drive to tractor events or I just go for a ride every weekend. Last year we took part in more than 20 events.
Which of the current models of the Zetor brand do you like best?
Of course I like new CRYSTAL but from a professional point of view I am more interested in the upcoming ZETOR PROTOTYP 50 mainly for the reason of simplicity and compact size.
Are you planning to make another trip with your Zetor in the near future?
Yes, I am. When I succeeded in getting to the sea this year, I mean to the sea level, I would like to try the opposite: getting as high as you can legally drive in Europe. But that is just in the stage of planning and getting finances. Apart from this, I of course plan to visit various tractor shows in the Czech Republic and also one bigger event in Poland. It depends on the time and money.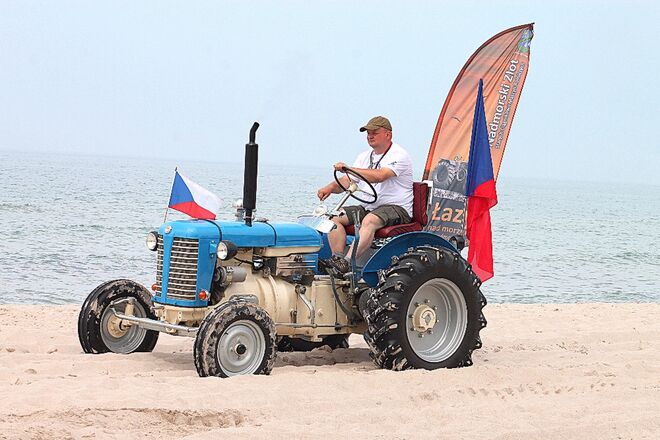 Photo: Lenka Myskova