Martin Havelka, a Zetor enthusiast, is again going to travel with historical tractor ZETOR 25 which was produced more than 50 years ago. Just like last year, this year's journey starts in Škrdlovice, in the Vysočina Region, and ends in Lazy nad Morzem, north Poland, which is the place of tractor meeting. The journey which is nearly 800 kilometres long starts on Sunday, June 11.
ZETOR 25 tractors started to be produced in ZETOR TRACTORS a.s., Brno, as early as 1946. The tractors were among the most widely sold at the time and a number of farmers have been using them up to present days. To Martin Havelka, ZETOR 25 has become a matter of the heart. "It is a legend, an iconic tractor which was used by many farmers in their beginnings. It has changed the face of our farming. In addition, it is a simple and reliable tractor with a fascinating sound of the engine. It is ideal for travelling; whether in respect of fuel consumption or speed," says the tractor enthusiast who has renovated the tractor.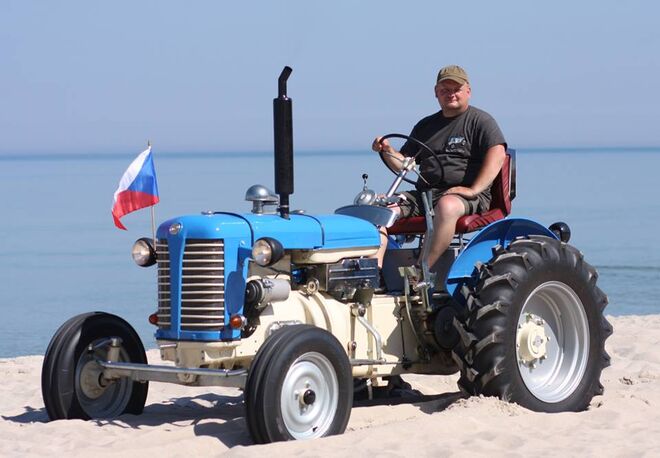 The nearly 800-kilometre-long journey should be covered in five days. The journey starts on Sunday, June 11, and it should end on Thursday, June 15. The length of individual laps is different, the longest one being 240 kilometres. "It is both great challenge and fun. In the past, tractors were used to transport load for long distances. When you realize the conditions at that time, like quality of roads or equipment, the journey today is a nice ride on a fine road to the sea, including a beach ride! Simply, tractor seat offers the best view of the world," adds Havelka. He is the only driver to set out for the journey; however, he believes that other enthusiasts will join him on the way. During the journey, he is supported by one service vehicle, his wife and his son.
It is the 4th tractor oldtimer meeting in Lazy nad Morzem, the final destination. Martin Havelka with his ZETOR 25 is probably going to be a visitor covering the longest journey driving his tractor. Visitors coming from similar distances usually transport their tractors on trailers.
"Covering nearly 800 kilometres with a tractor aged more than 50 years is a unique accomplishment. Martin Havelka's journey with his historical tractor is a reminder that our tractors are really reliable. And it is true that reliability and simple operation are one of major benefits recognized by our customers. We wish Mr. Havelka successful reaching of his destination once again," says Robert Todt, Sales and Marketing Director, ZETOR TRACTORS a.s.
Zetor 25 tractor has got 70-year-long history. The first tractor dating back to 1946 was marked Z 25. That was the start of mass production of the tractors and further development of the popular tractor. The year 1949 witnessed innovation of the tractor, bringing the legendary Zetor 25 A with a number of benefits: improved dashboard including thermometer, comfortable seat with upholstery, hydraulic three-point hitch, optional cabin, differential lock or adjustable front and rear wheel track.