With a little exaggeration, we could compare the journey of Martin Havelka, a tractor enthusiast and ZETOR fan, to a journey from the Czech Republic to the end of the world. The reason is that the destination he intends to reach is on the coast of the Baltic Sea in Poland. Any further he could get only by boat. During four days, Martin Havelka has covered nearly 800 km from his hometown Škrdlovice, in the Vysočina Region, to Lazy nad Morzem, Poland, with his over-fifty-year-old Z25. Why has he chosen this destination? The city hosts tractor meeting organized by a fan club of oldtimer farming machines.
Just like last year, there were no complication on the way; moreover, Martin Havelka and his tractor have broken the record by reaching the destination a day sooner than planned. We had the opportunity to interview Mr. Havelka shortly after he reached the destination. We were talking about the journey, his tractor and his experiences on the way.
You have covered 800 km from Škrdlovice, in the Vysočina Region, to Lazy nad Morzem, north Poland. What was the journey this year like if compared with last year?
"This year's journey copied the last year's one. With the exception of several detours, which were results of the construction of new roads in Poland, I could stick to the plan. The biggest, and positive, change, was the weather: I got wet just once (laugh). Another difference was that I reached the destination one year sooner which was made possible by the speed of the tractor and situation on roads. The total time spent in the tractor was 24 hours; however, the journey was, of course, divided into several laps."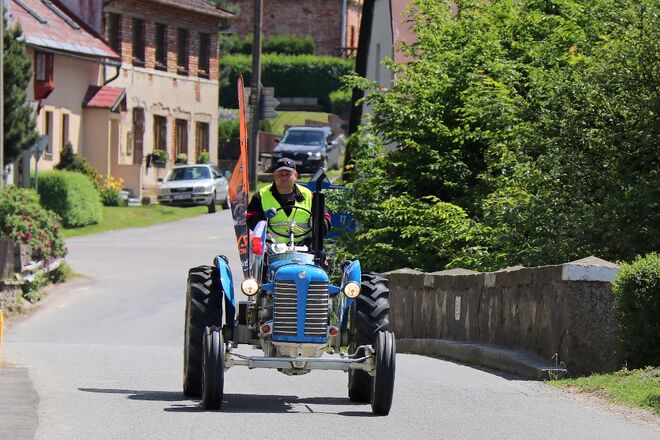 Were there any unexpected obstacles on the way? And what are your experiences from this year's journey?
"Fortunately, there were no complications; Zetor 25 really earned my respect. It consumed only 90 litres of diesel on the way; apart from that, it did not need anything else. It is simple a legendary tractor. I believe it was everyone's first tractor and it still proves that simple means powerful, reliable and beautiful. It could also make the journey back without any complications but I don't want to take any risks, so I will take it back home on a trailer.
As far as experiences are concerned, I was surprised by very nice reactions of Polish people, whether drivers or passers-by who supported me on the way, waving at me, blowing their horns, some of them even waiting for me to take a picture with me and the tractor. The only uncomfortable thing was wind ahead which was blowing during the whole journey."
What was the plan of your journey and how long were the individual laps?
"I planned the journey to take five days, so I was supposed to come to Lazy nad Morzem on Thursday. However, on the go, I decided to make the journey faster, weather was nice, so there was no reason to make the journey any longer than necessary. As long as I was able to drive, we were going ahead (laugh). In the end, I reached our destination 24 hours sooner, taking the organizers by surprise as they were not expecting us that day. The longest lap which I covered was 280 km from Leszno to Szczecin. Otherwise, we have covered 200 km a day, on the average.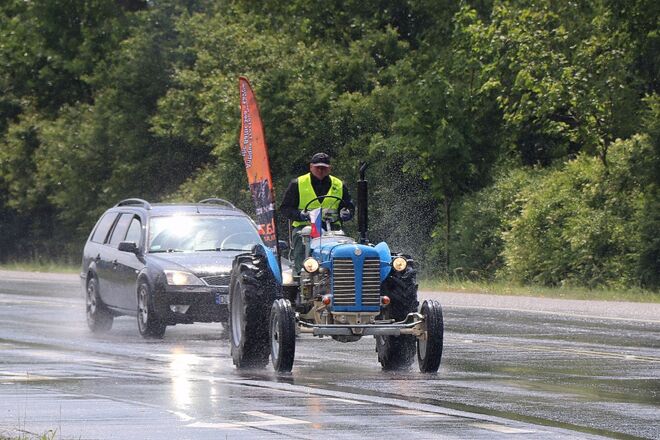 What is your program now in north Poland?
"Now I am having a rest (laugh). But I have come because of oldtimer tractor meeting which takes place here annually. The program takes the whole weekend: it includes for example mass arrival to the spot of the meeting, coast ride and a number of other activities. When the even ends, we are going back home; this time by car. The tractor stays here for one more week when I come for it with a trailer to take it home.
Did you travel on your own, or were you joined by other tractor operators and fans?
"Other participants who travel in their tractors are still on the way. Z25 has its own pace and they couldn't keep it up. I am too fast for them so they would be left behind (laugh). Still, I wasn't alone, I had my team – my son and my partner who was driving the service car. They were supporting me a lot on the way. I met members of historical tractor clubs and I was interviewed by several Polish journalists. I would like to thank everyone who helped with the preparation and organization of this journey and everyone who supported us."
What is your next destination with the tractor? Will you attend the meeting in Poland next year again?
Naturally, I have other ideas in my head but I will see; I don't like anticipating. And yes, I would like to take part in the next meeting in Lazy.