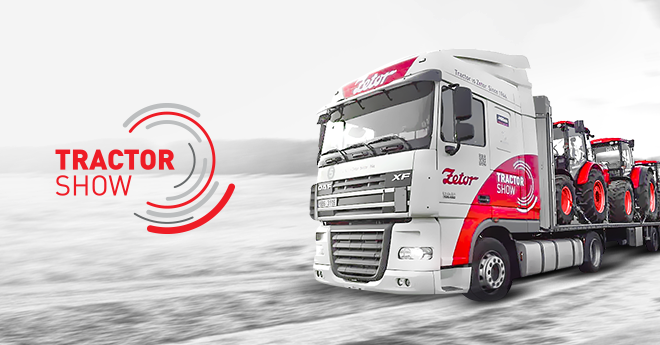 ZETOR TRACTOR SHOW is back on the road!
This May starts already the seventh season of the ZETOR TRACTOR SHOW. This unique product exhibition format has proved to be very succesfull as many as 60 000 spectators gathered at nearly 400 stops experiencing the qualities of Zetor brand since its launch in 2011. The line up of this year will showcase the latest models of the Zetor portfolio including an award winning Forterra HD together with Proxima HS and Major HS. All the available models will be presented under selected cultivation, alternatively breeding operations.
The first stop of this year´s roadshow takes place newly in Croatia followed by Poland, Switzerland, Austria, Lithuania, Sweden, Netherlands, Great Britan and France covering more than 60 stops.
Eperience Zetor personally and come not only to see our new Stage IV model lines but also to test the machines and aggregations directly under real conditions in the fields!
We look forwards to see you at one of the stops!
Croatia
21.5. 10:00 - 13:00 POD d.o.o.; Dežanovac 234; 43500 Daruvar
22.5. 10:00 - 13:00 IDM Čotić d.o.o.; Dugoselska 68; 10361 Sesvetski Kraljevec
24.5. 10:00 - 13:00 Farma Domačinović, Savska bb, 32275 Bošnjaci
25.5. 10:00 - 13:00 SANTINI d.o.o.; Branka Radićevića bb (Gas Station SANTINI); 32240 Mirkovci (Vinkovci)
Poland - to be announced
Switzerland - to be announced
Lithuania - to be announced
Sweden - to be announced
Netherlands - to be announced
Great Britan - to be announced
France - to be announced
Austria - to be announced